Traveling to Scotland for the first time? 
The following Scotland travel tips will provide you with the most helpful information to make your traveling to Scotland for the first time the best trip ever. It's an amazing country filled with a rich heritage, stunning landscapes and incredible beauty. After 15-days of driving in Scotland  through such spectacular landscape, we've gathered some great Scotland travel tips to help you make the best out of your visit to this fabulous part of the world.
Before going to Scotland travel tips you need to know...
Here's what you will get from this post
Table of contents
Great Scotland travel tips for the best trip

Lodging options (tried & tested)

Stunning pictures of Scotland
Disclosure: This page may contain affiliate links for products and services that I use and recommend. If you purchase anything through these links, the price will stay the same to you and I get a small percentage as a commission. Full Disclosure Policy Here 
Planning to visit Edinburgh Castle?
Buy your tickets online to avoid the queues.
Often the start of many Scotland journeys, Edinburg has a wide range of activities for the avid traveler. With tons of historical sites to choose from, the main attraction is without a doubt Edinburg Castle which includes the Royal Palace in which Mary Queen of Scots, gave birth to James VI in 1566. Simplify your entry to the site by purchasing your tickets online ahead of time. A 60 minute tour is included in the entry fee and you can plan on spending a few hours here with all of the exhibits and different buildings there are to visit. You can buy your tickets online right here
Want more insight on what to do in Edinburg? This great post from fellow blogger "Girl with the Passport" lists Edinburgh travel mistakes people make, read it here.
Get ready for the weather
This may sound terribly cliché, but it's true, the weather is very unreliable in Scotland. So even if you're planning a late summer trip, trust me, you'll need an extra layer or two. Bring warm clothes and waterproof shoes, Scotland is renowned for its temperamental weather, with rain, fog and wind always lurking around the corner. In the Highlands, with the prevailing winds, you'll need a windproof rain jacket as well as a top layer.  
If you're packing a carry-on and want to keep your feet super dry without bringing rubber boots, consider buying waterproof hiking shoes like the ones, shown below. I'm extremely impressed with them. They kept me dry through muddy hikes and city puddles. Nothing ruins a good day of exploring like wet feet, this was a great pre-trip purchase!
Do the math…  Don't just compare the price of gasoline compared to diesel, yes, you'll easily figure out there's a few cents difference, but what you really need to understand is that Diesel will provide you with almost twice the mileage. If you plan to cover a lot of areas, the additional charge for getting a diesel car versus the fuel economy overcomes the extra rental cost. The 2 500 km we drove during our 2 week trip with all factors considered passed the breakeven point. Another advantage is less fuelling up, something we only did three times over two weeks. You can concentrate on enjoying your road trip instead of worrying about service stations in remote areas.
Need a rental car? Get 25% off Scotland car rentals
Isle of Skye deserves 3 days on its own
Consider yourself warned. The Isle of Skye will blow your mind with out-of-this-world beauty and crazy vistas. Better give yourself some extra wiggle room, allowing some leeway in your schedule in case of bad weather. Meeting travellers that were there only for the day… a day of downpour and heavy fog, what a shame that would be. Staying in and around Portree is the perfect base to explore the island, check these self-catering options and reserve early.
Even if you're not into heavy hiking, simply driving around the beautiful countryside is quite rewarding as such. Plan to visit the Waternish region and enjoy a short free tour of Skyeskyns, a traditional tannery where you'll be able to sample a wide selection of sheepskins, elk skins and more.
They also have the coolest little cafe set-up in a yurt overlooking a beautiful bay, perfect for a little coffee break before carrying on touring the Isle of Skye.
Don't skip the Glencoe region 
Here's another tremendously beautiful region with breath-taking scenery at every turn. Make Fort William your base for exploring it and enjoy the glorious views along the loch. If you're a James Bond fan, the Glencoe area is home to many Skyfall filming locations.
Explore the Orkneys with North Link Ferries & Save
Orkney is a very special place. It's a region with a rich Neolithic past dating back some 10,000 years. If you love ancient monuments, the Ring of Brodgar stone circles, the Maeshowe tomb and the prehistoric village of Skara Brae will satisfy your wildest archaeological dreams.
To access Orkney, you have two choices: flight or ferry. If you plan to use the North Link ferry, you can save up to 30% by joining the Friends & Family Saver (certain date restrictions apply). The traditional route is to take the 3-hour long lunchtime ferry from Thurso to Kirkwall, but you also have the option of taking a different route, a late afternoon ferry from Aberdeen. This option gives you all day to enjoy Aberdeen and close by Dunnotar castle before embarking on this 6-hour transfer. Don't worry, the ferry is well appointed, comfortable and you can even reserve a cabin on board if you so desire.
Bonus : Great view of  The Man of Hoy
Ring of Brodgar (Orkney)
If you're on the island for only a short stay, we strongly suggest hiring a private guide, this will provide the best use of your limited time here. Browse through the Orkney Tourist Guides Association to book a professional guide ahead of time. We had a wonderful time with Helen, a full-filled and well-planned day.
As per our request, she met us at our B&B and had coordinated a perfect mix of history and ancient sites packed into an easy to do day tour for us. The advantage of a private guide is that they will customize the tour according to your site seeing preferences and, of course, the time you have at your disposal to do so.
Skara Brae Neolithic village
Planning a whisky tour?
Reserve ahead & sign up for FREE entry to 12 distilleries
One of us (guess who) couldn't wait to make it to Scotland to get a taste of all of his favourite malts directly from the source. We ended up visiting many distilleries, some good tours including the many drams they include. The popular whisky establishment tours fill up fast and reserving ahead of time will prevent disappointment and, of course, possible queues and/or long wait times.
If you plan on visiting any of the Diageo owned distilleries, which by the way is the largest holding group in Scotland, make sure to join their Friends of the Classic Malts and get free entry to 12 of their distilleries and much more. You'll even get a passport to have stamped at each destination. Tours entry fees otherwise vary from 5 £ to 10 £ pp.
Airbnb is your accommodation ally
If you've been following us, you know how much we love Airbnb. The lodging opportunities and experiences offered to us during long-term travel are unbeatable. Scotland is a great place to use AIRBNB, there are loads of options ranging from private rooms to entire place to choose from.
We saved a ton of money by using it compared to hotels. With the currency conversion, the United Kingdom lodging options can be quite expensive for some of us. If you plan appropriately you can really find some great deals! Read our Airbnb guide and tips on how to save money.

By creating a new account via this special link, you"ll get $45 off your booking, not a bad start to saving some real money…
Aberlour Speyside Central 
Prefer a hotel room?
Check some rates on Booking.com
COOP prepared meals & AirBnB: A winning combination 
When travelling for an any extended period of time, it's quite easy to get bored of overeating out. Ordering meal after meal from a menu becomes a task in itself. After many days on the road, visiting and exploring, eating in with a flavourful home-cooked meal accompanied by a bottle of your favourite beverage, in our case-red wine, really hits the spot.
Too often we've found, the advertised Airbnb ''fully equipped'' kitchens are not quite up to par in the "seasoning department", making it challenging to create a simple meal with only salt & pepper on hand. That's when the COOP option comes in handy. These unpretentious minimarts, which can be found all over the country, offer many options to create easy and also tasty meal options. Our favourite go-to while on this Scotland road trip was their ready-to-cook Scottish salmon fillets with drizzling dill sauce. Add to this, a bag of pre-cooked basmati rice ready to reheat in the microwave, a pre-washed salad and voilà!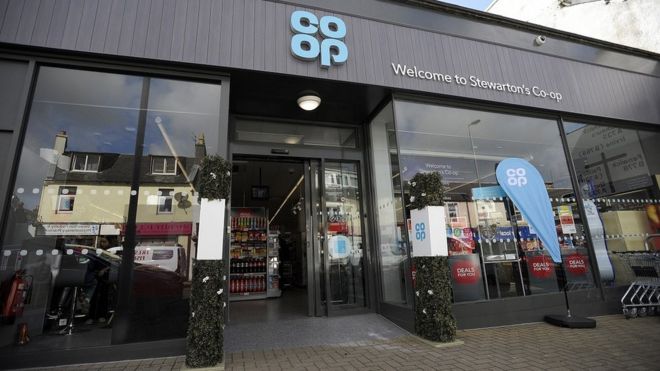 Have you been to Scotland?
Please share your experiences, comments or questions with us below…
Like this article? Pin it!